eFundraising Connections now supports virtual fundraiser events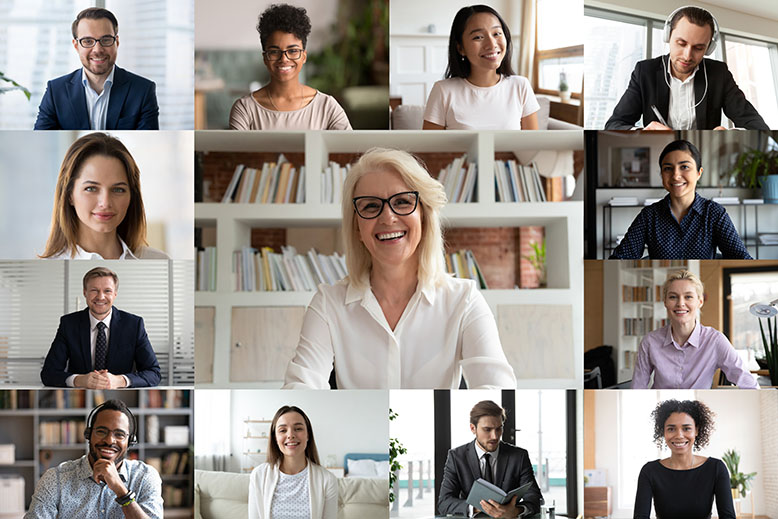 How to hold an effective virtual fundraiser
Social distancing and stay-at-home orders are now our new reality as America faces the COVID-19 pandemic.  This new normal has disrupted all facets of our daily life.  Schools and colleges are closed, face masks are required for going out in public, only essential businesses are staying open, and the re-opening of the economy is just starting.
Politics and fundraising have also been disrupted.  2020 is an election year, and many campaigns are turning to virtual fundraiser events to raise money online from supporters while still maintaining social distancing.
In the past, your campaign would find a restaurant or private residence for hosting a campaign fundraising reception, dinner or event.  However, with the help of modern technology and some outside-the-box thinking, your campaign can hold a virtual fundraiser online. 
Read More about the best practices for Zoom Virtual Fundraisers
What is a virtual fundraiser?
eFundraising Connections now supports virtual online fundraising events where instead of gathering together physically, supporters and donors gather online via a Zoom meeting for the event. 
There are many possibilities for your event, including speeches by candidates and question and answer sessions from supporters.  These events also give you the ability to share your screen with participants.  This allows campaigns to share a visual slide show with supporters during the event.
Getting started
Once your campaign has chosen to hold the virtual fundraiser, your first step is to decide the date and time of the event.  Simply log into your eFundraising Connections dashboard and click Events, Add New Event, and select Virtual Fundraiser.  Then add all the pertinent details of your event and click create.  That's it. 
Please create your virtual fundraiser on your dashboard at least 72 hours before the event date.  If your preferred time slot is not available, please choose another date.
When creating your virtual fundraiser, make sure you set a minimum donation amount required to participate in the event. In the "Payment Options" section, you don't need to set a ticket price and do not click the button to create a ticket. 
You also will have the option of limiting the number of attendees.  This allows you to control the potential size of your Zoom virtual fundraiser. 
Our system will automatically create a Zoom virtual fundraiser event and one of our Account Managers will contact you to give controls over to the designated person in the campaign that will be launching and controlling the event.  Your campaign must designate one person to serve as the event organizer.  This is automated to designate whoever sets up the fundraiser event on your eFundraising Connections dashboard. 
After your campaign has created your virtual fundraiser, the next step is to invite campaign supporters to the event.  To attend the event, contributors simply need to make a contribution on an eFundraising Connections donation page specifically created for your virtual fundraiser. 
After they complete the online donation, they will receive an automatic thank you message that includes the details of your virtual fundraising event and a personalized unique link that they will need to use to join the Zoom meeting.
Remember, the only people who will receive the link to join the virtual fundraiser will be those who contribute to your campaign online through your event donation page.
As the event organizer, your designated meeting host will receive access from eFundraising Connections to start and run the virtual fundraiser on Zoom.  This person must be present throughout the entirety of the event as the host.
Holding your virtual fundraiser
On the date of your virtual fundraiser event, please be sure to log into your Zoom account at least 30 minutes before the start to make sure Zoom doesn't have any technical issues with their system before going live.  Be sure to click "Start Meeting" to kick off your virtual fundraiser.
As the meeting begins, attendees will automatically enter the meeting waiting room.  As the host, you will need to manually admit each donor into the meeting.  You can do this by clicking the "Participants" button at the bottom of your Zoom screen.  From there, you will quickly be able to see any donors that are waiting to be admitted to the event.   This waiting room feature is turned on by default.  You can turn this off in the Zoom settings prior to your event.
During the fundraiser itself, if you wish to mute everyone in the meeting, you can do that simply by clicking the "Participants" icon at the bottom of the screen and then click the "Mute All" button on the bottom of the participants tab.
Zoom also has a "raise hand" feature.  This will allow participants to "raise their hands" and make answering questions from contributors a more streamlined and organized process. 
Do you have a PowerPoint or slide show that you wish to share with the participants of the event?  If so, you as the organizer of the event can share your screen.  Just click the "Share Screen" icon on the bottom of your Zoom screen and everyone in the room will see your screen.  When you are finished, simply click the same icon to stop sharing your screen. 
After your virtual fundraiser
After the fundraiser event is completed, don't forget to officially end the meeting.   You can do this by clicking "End Meeting" on your Zoom screen. 
Have any questions about setting up your virtual fundraiser through your eFundraising Connections platform?  Don't hesitate to reach out to our team.  Good luck!